Certificates and permissions
Our certificates
Eko Unija SN d.o.o. is certified according to the latest ISO business standards.
ISO 9001: 2008 is the framework for implementing a quality management system.
ISO 9001: 2008 is an internationally recognized standard for quality management system (QMS) published by the International Organization for Standardization (ISO) in 1987, and then revised in 1994, 2000 and in November 2008. The ISO 9001: 2008 standard is the framework for the implementation of the system quality management and provides an opportunity for organizational performance in terms of product and service quality. The standard enables a series of principles that provide a logical approach to managing business activities to consistently achieve customer satisfaction. It specifies the requirements for quality management, where the organization should assess and demonstrate its ability to provide products or services that meet the needs of users and applicable legislation, and thus increase customer satisfaction.
The ISO 9001: 2008 standard is intended for use in any organization that wants to improve the way it is managed and managed, regardless of its size, sector and category of products or services.
Basics of ISO 9001: 2008 (QMS):
Quality policy
Document management
Records management
Internal check
Discrepancy management
Corrective measures
Preventive measured
Continuous improvement
Uses ISO 9001: 2008:
Improves financial operations
Increases reputation
Increases the level of customer satisfaction
Improves operational process management
Provides a competitive advantage
Compliance with legislation
Ability to compete globally in quality and price
Access to new markets
Improving relationships with customers and suppliers
Improved consumer focus and orientation process
Continuous improvement of quality management
ISO 14001: 2004 is a standard that enables the reduction of negative environmental impacts and the promotion of environmental business practices.
The ISO 14001: 2004 standard is an environmental management framework published by the International Organization for Standardization (ISO) in 1996 and revised in November 2004.
The standard is based on the principle of continuous improvement of the state of life organization. The standard uses the Plan-Do-Check-Act concept, which is an improvement. It consists of a set of requirements that the company must deal with and implement in its activities. The main purpose is to constantly improve the protection of the environment. ISO 14001: 2004 can be applied to any company that wants to establish, implement, maintain and improve the environment and management system in accordance with its statement on Environmental Policy.
Basics of ISO 14001: 2004 (EMS):
Environmental policy
Identification of significant environmental aspects and impacts
Development of goals and programs
Implementation plan to meet goals and programs
Identifying training requirements
Management review
Uses ISO 14001:2004:
Reduction of responsibilities and risks
Facilitating business processes
Minimize waste and energy
Lower distribution costs
Improving business image
Gaining international recognition
Improving marketing potential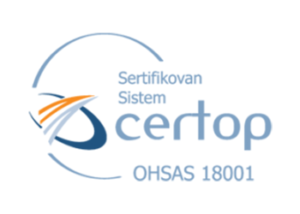 OHSAS 18001: 2007 is an internationally recognized standard for health and safety (OHS) at work.
The standard provides a framework for organizations, regardless of their complexity and size, to manage their security holistically. OHSAS 18001 is designed to enable organizations to demonstrate their commitment to providing a safe and efficient work environment by identifying risks and improving access to active management of these activities.
The goal of OHSAS 18001 is to continuously reduce the risk of occupational hazards in the workplace, which in turn improves the company's productivity.
Basics of OHSAS 18001: 2007:
Environmental policy
Workplace risk assessment
Development of goals and programs
Implementation plan to meet goals and programs
Identifying training requirements
Management review
Uses OHSAS 18001:2007:
Improves efficiency and reduces the number of accidents at work
Demonstrates a commitment to protecting employees, property and plant
Shows respect for the law
Improves reputation
Improved relationship with partners based on safety and protection of staff, customers and suppliers
Compliance with legal regulations
Increased credibility of the company
Cost savings through emergency preparedness
Improved risk management system
Permissions
We have all the necessary waste management permits: